Treasures Without Track
So named because these are favorite finds that don't (yet) have a layout to call home. I hate leaving them languish on display shelves -- and do have plans to give them all track where they can steam about and strut their stuff properly.
Ideally? Well, in my head, I'm looking forward to creating several little miniature worlds - each of a different period & style. And with a little luck -- and a lot of time <g> -- I think I can manage it. Below are a few prize pieces I've collected for each -- some pristine, some barely salvageable -- the collectable and the quirky, but all things for which I have a special affection. So I wanted to share some pix of my personal favorites...
---
Turn of the 20th Century
Recently, I've gotten into "old European stuff I can't really begin to afford."
Bigtime.
Budget notwithstanding, I've managed to lay my hands on a bit of Bing, Bub, Carette, Marklin, Basset-Lowke... I'm just itching to get it all into a pre-war layout and make it all hum and buzz and hiss again. T-Rail and Gauge 1. No modeling realism -- all colorful toy tinplate, as if one had stepped back in time. Well, that's what's in my head anyway. This follows the Standard Gauge layout on my optimistic agenda. Here's the early stuff, from about 1890 - 1918
Here's a Gauge-1 Bing steamer, a REALLY cool early Bing transformer, with an antique Edison-style bulb that evidentially lowered voltage, and a Bing NY Central Electric for the American Market...
Here are two of the coolest pieces I own -- Carettes: a 1907 O-gauge and 1902 Gauge-1 live steam engines... Once I get up the nerve to make a couple minor solders (terror), they're going to happily boil and hiss their way around the tracks once more <g>. Sweet!
Here's a live-steam 'Birmingham Dribbler' - probably from the late 1800's...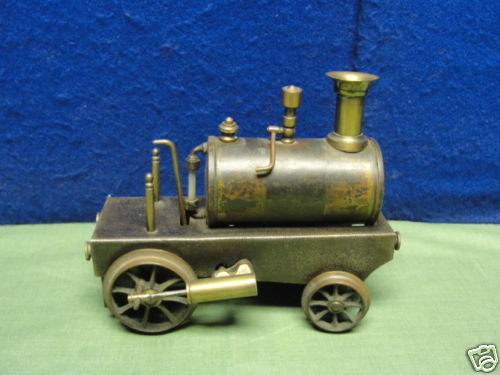 I just love these "Companie Internationale Wagons-Lits" -- or if you prefer, "Internationale Schlafwagen Gesellschaft" Gauge-1 wagons with hinged roofs. I hope to find more of the set.
Alcohol powered steam engines? Well why not alcohol signals and streetlights? Both this Fandor semaphore and Fallows streetlamp have wicks and oil reservoirs... The prewar Bing Arc lamp is electric.
These circa 1900 tinplate lithographed stations and accessories just have an amazing allure -- and charm. Well, to me anyway. The one on the left is Bing, 1906. The American market destination board and station with telegraph office are Carette, 1911.
OK America had toy trains pre-WWI too! Probably my favorite engine: An Elektoy steamer made between 1910 and 1917. Before & after below... Cleaned up pretty good for 100 odd years old, huh?
It's probably the oldest set in my collection. The Weeden Dart began production in 1887 and was sold through 1918. This is a three-wick "early version" which likely puts it closer to the early years. I danced on the ceiling when I got it. (Really!) One of those things I'd heard of, but never thought I'd own. Then one lovely, slow recession-ravaged auction day...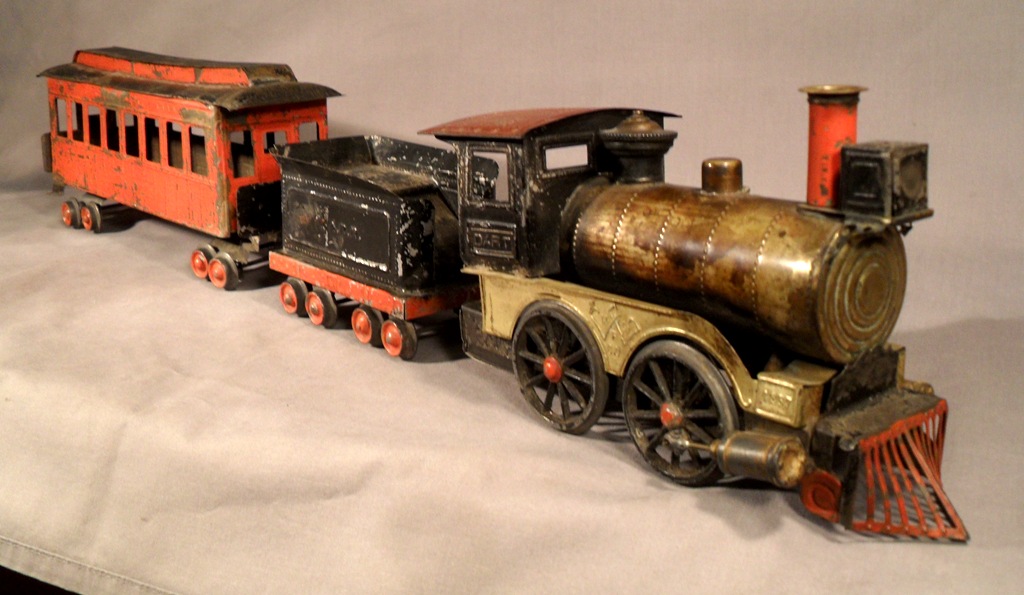 ---
Between Wars
Shortly after my renewed interest in this hobby, I read about the Leland-Detroit. I was hooked. A 1930's O-Gauge monorail? The one and only toy-train from the company of the man who founded both Lincoln and Cadillac? Rare... Quirky... Cool as... Who could blame me??? <g>
It's a complete set in great condition -- and I'm proud as a new dad. Soon it will purr above the earth-bound track of my prewar layout. I grin every time I look at it -- I can't help it.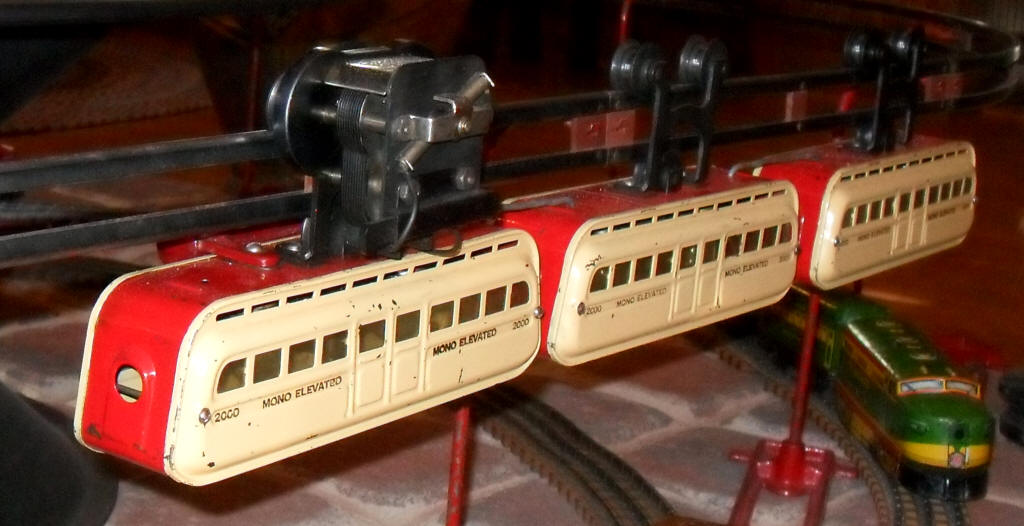 Not exagerating: I'd been trying to find one of these for over a decade. I'd only ever seen a single one for sale. It was at York, and about five times my entire York budget. I walked past it eight or ten times, trying to justify... As the hall closed, I couldn't do it, and truged away forlorn and empty-handed.
Seven or eight years later, my mother-in-law was visiting, and I was showing her and my husband the toy-train wonders available on eBay-Germany (where I often used to shop). And there it was. I sighed deeply as I still couldn't justify the outlay. Bless my husband (who is bored-stiff with toy trains). I quote: "You've been looking for one of those damn things at every train show you've dragged me to since we met. Stop whining and make an offer." So I did.


Gauge-1 Marklin S.Z. 12971, Schienenzeppelin, 1931 - 1938
Hoge made trains from 1931 - 1939. I've heard them described as 'faces only a mother could love'... Awwww. It's not as slick as my Flying Yankee -- but I love it just the same...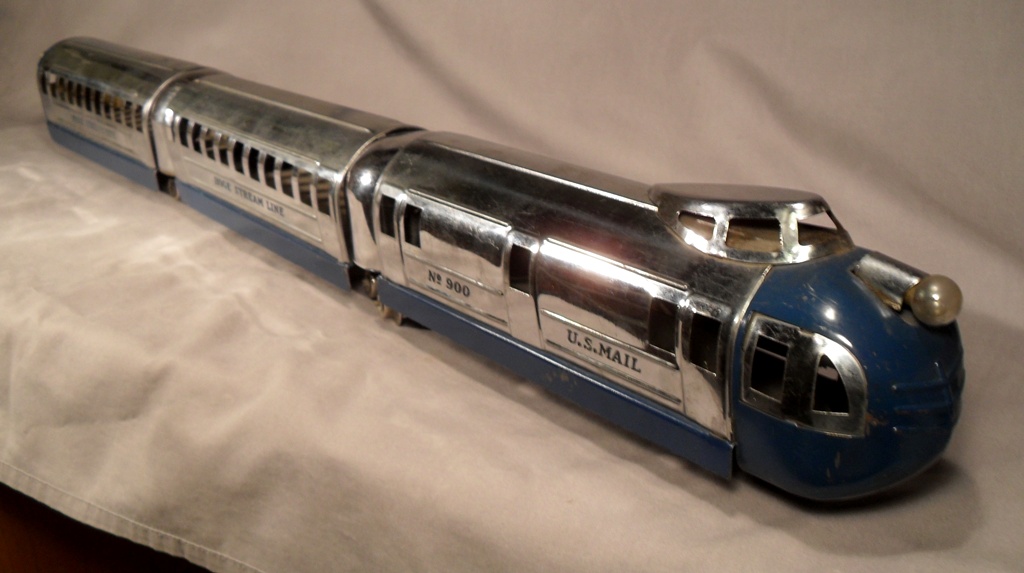 Well, if it's going to be a T-Rail prewar layout...
The 2007 economic mess was hell on my business -- but definitely halcyon days for my train habit. Once again, couldn't possibly afford one... I'd placed a 'what the hell' bid with a private auction house. I lost the auction, I'm used to it. But then, weeks after the bidding ended, the auction house called: If I was still interested, she was mine -- for my ridiculously low-ball bid! I calmly put down the phone and began bouncing off the walls like a total lunatic. Evidentially one -- or probably more -- high bidders refused my baby below once a small crack was discovered in the tender's coal load, along with a break in one of the cab's window muntins. Hell, I still haven't been able to find the coal load crack -- and couldn't care less.
And here I thought I'd have to make do with admiring my Hallmark ornament for the rest of my life! I want to run her so bad I can taste it.

Lionel 700EW Hudson, 1937 - 1942
---
2-Rail Scale
And last, but hardly least, I'm planning toward a scale layout, O-Gauge, 2-rail, using prewar home built and kit built rolling stock, with as much realism and detail as my limited modeling skills can muster.
A few engines are ready to go. This Thomas switcher was just too cute to pass up.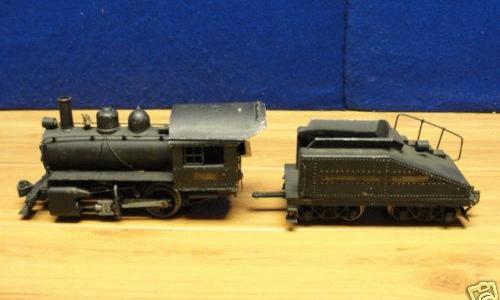 I've been acquiring scale rolling stock with constructs in mind... I've put together the better part of a Santa Fe freight. The Engine is All-Nation.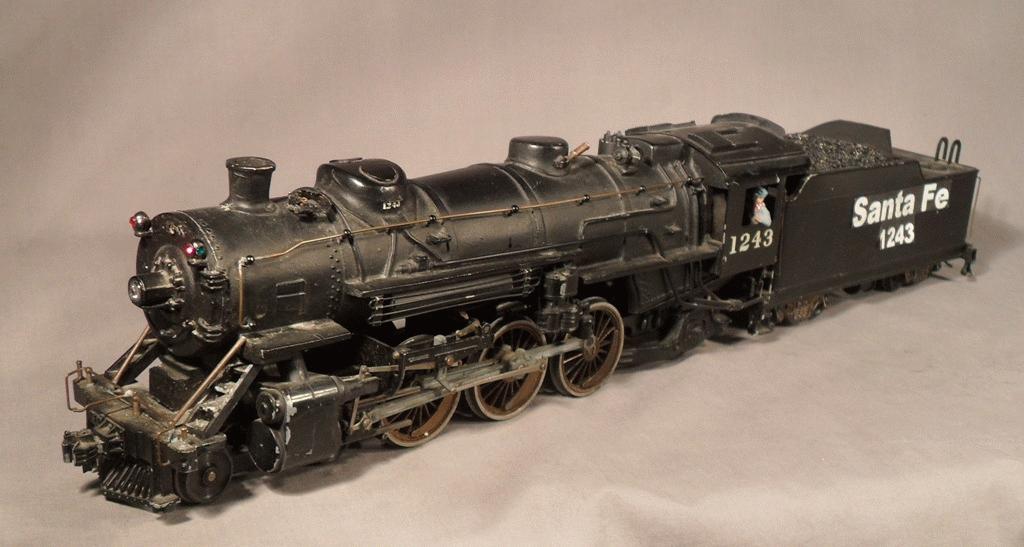 There are two of the Santa Fe boxcars, probably Walthers, the gondola's maker is unknown, the Caboose, Quality-Craft.
I have this Scalecraft 4-8-2 planned for the Madison heavyweights below -- uh... a little adjustment in road-names and/or liveries may be necessary <g>.

These Walthers cars have, or will have, full interiors. I've already found the proper period interior kits, now, with a bit of time...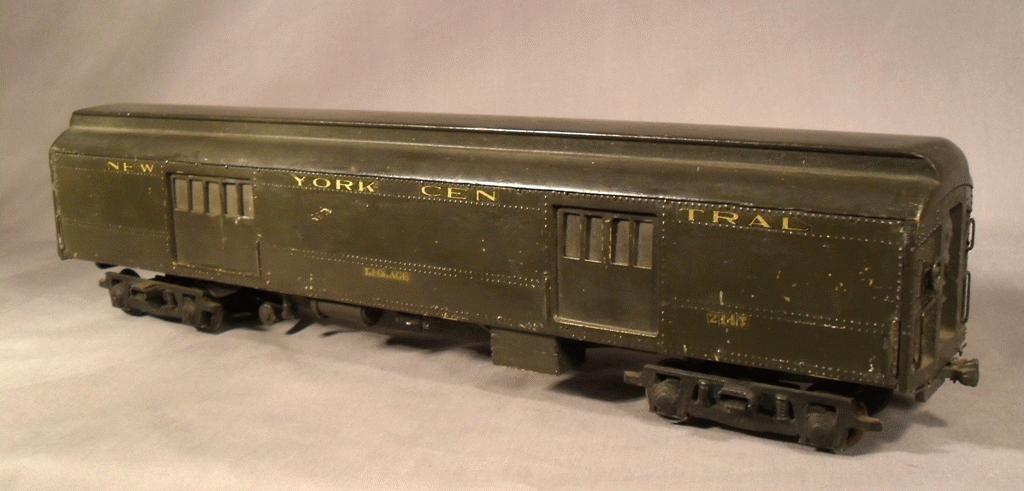 I thought this All Nation NW2 would be sort of perfect to head up these VERY cool all-metal freight cars. No idea if the cars are scratch or kit-built.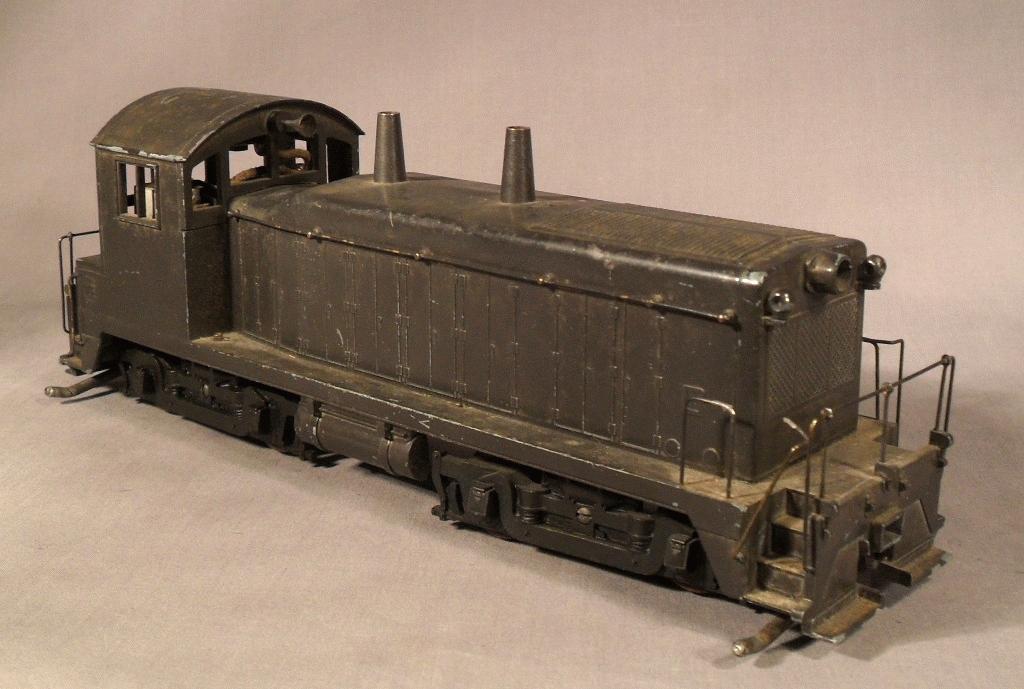 I like this Hines Lines 0-8-0 to pull my "Company Train." The payroll car is Ambroid, the private car, probably Walthers.
Check out the Private Car interior...
Scarily enough, with the exception of some track, I have the rolling stock and accessories on hand, in a modest way, for all four layouts. (Cart before horse perhaps?) What's lacking is real estate. But even more scary is the fact that I'm actively working on that. OK, I'm crazed -- I'm out of hand. And somehow, I don't mind at all.
This whole toy/model/train/hobby thing has given me enormous joy over the past few years. It's been work, fun, therapy, leisure, frustration... Well, lots of things for me. And here's to much, much more of the same!
Clint
clint@clintjefferies.com