The Standard Gauge Layout
(Click on any pic for a larger version...)
For a number of years, the SG rolling stock only got to strut its stuff at Christmas around the tree... (And for antique buffs, that's a turn-of-the-century Dent Toys "Christmas Tree Fence" around the little Lionel Santa's village...)

---
But the times, they are a-changin'...
First-stage construction occurred July 1 - 9, 2010... OK, maybe it wasn't a major event in railroad history, but my SG rolling stock waited a long time for some track to call home. Below are a few pix of the progress:
July 2: The frame for the bench work is complete...
Yes, those are bowling lanes... Back in '66 my mother bought two antique lanes from a Knights of Columbus hall that was being demolished. I helped install them as a kid along with the antique soda fountain. Unfortunately, no one in our family really bowls -- and real-estate needs of a train habit being what they are...
My parents very kindly suggested I might use the bowling lane building for additional layout space rather than buying the house next door. (Yes, I was seriously considering it <blush>) I'm leaving one lane functional and building over the other. Everything's being left intact so should more 'train space' turn up both lanes can regain their dignity <g>.
July 3: The deck goes on & July 4: It gets a base coat...
White -- as this is to be a 'Winter' layout. Lots of old bottle-brush trees, sparkly snow, and perhaps a bit of Christmas cheer.
By July 8 the track is down.
Mostly new 3-rail from the great guys at USA-Track - but vintage Lionel, AF and Ives on the sidings. The accessories are placed, control table built and 2 loops are running. The bench work for the lower loop is complete, along with the... uh... shelf. OK, maybe 2 x 10 is overkill for knick-knacks, but this is actually to hold one end of a maintenance bridge as needed.
July 9:
After an all-nighter the lower loop is completed. And we hit a little bump...
I wasn't able to get back home to do more than a few tweaks for the next year-and-a-half. So there appeared a bit more rubber roadbed, more people, a slight change in the track plan, but that was about it. I wrote on these pages I was "...hoping for more 'layout time' in 2012.
2012 came and went. I got a new job that seriously infringed on the important things in life -- like my trains. And much like the 2nd Avenue Subway...
Let's call them "Construction delays". I managed a night or weekend, two or three times a year... And after only eight years, I looked around one night in a sleep-deprived daze and suddenly realized... I think it might be... Done. It's possible the heavenly choir of Cherubim and Seraphim was an aural hallucination, but I swear...
OK, the steam-carnival isn't running yet, and there's still landscaping. But I'm (finally) reasonably pleased with state of things.
As of December, 2017:
That's a 402 pulling the 418/19/31/90 set. The home-built green loco is hauling every one of the 500-series freight cars. On the sidings are a set of 100-series freights and an 18/19/190 set, now headed by a rewired #6. And the 332/339/341 set with the 10E is ready to roll. It got me started in wide gauge as the first SG set to come my way, complete down to the original boxes. I asked Clem (A TCA friend), to measure his State Set for me so I could construct a siding on the off-chance I could afford one some day. I now have the engine -- the State cars will probably appear one York at a time.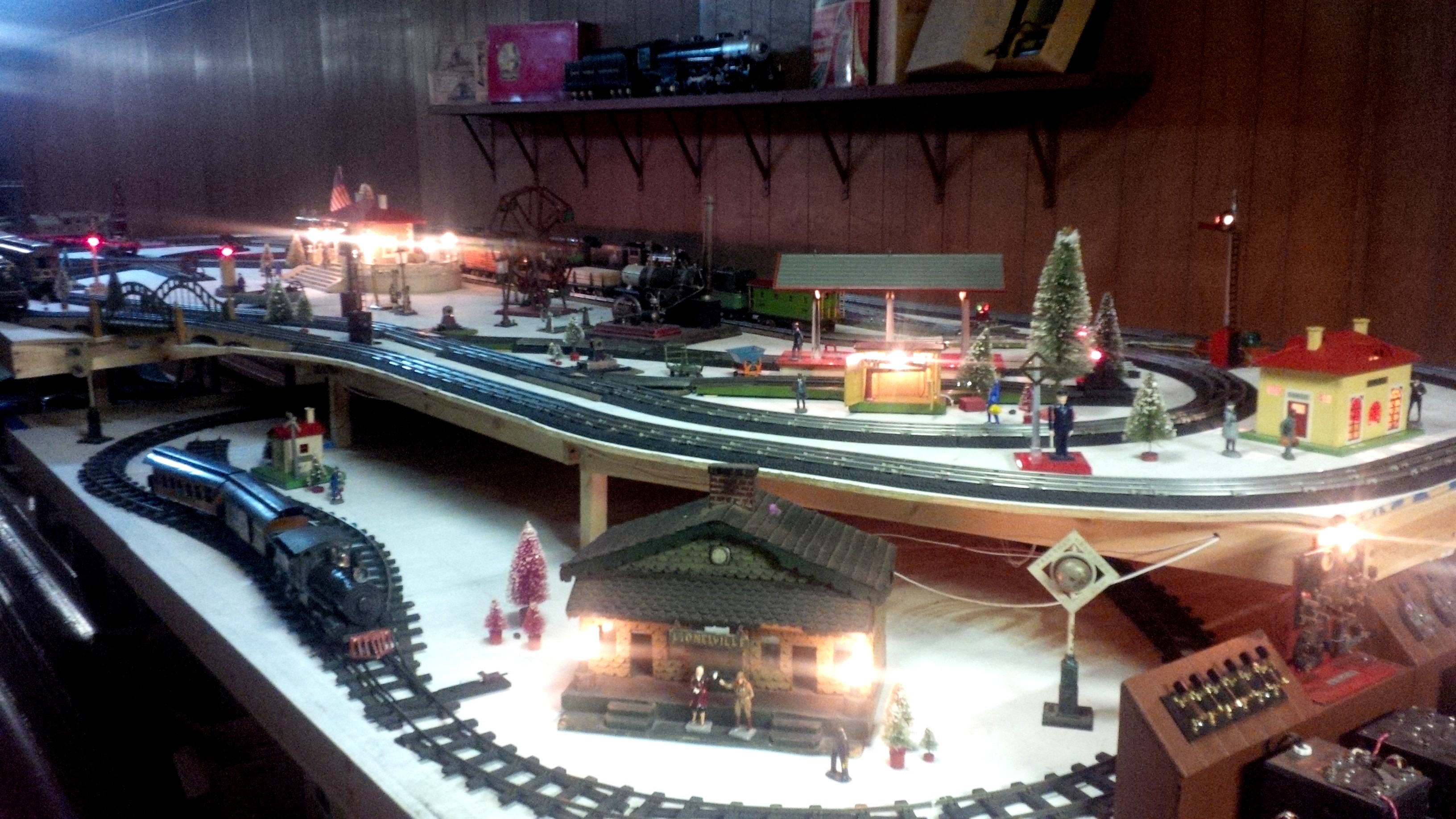 On the lower loop, my Carlisle and Finch runs on vintage Gauge-2 track with wooden sleepers by Bassett-Lowke. Some had to be re-bent from the original 96" curve diameter to something closer to 42". The signals are Ives. The C & F originally barely limped. But after much tinkering, lubing, cleaning and adjusting, now hums around the old track like it was fresh out of the box. That's the stuff that puts a big smile on my face.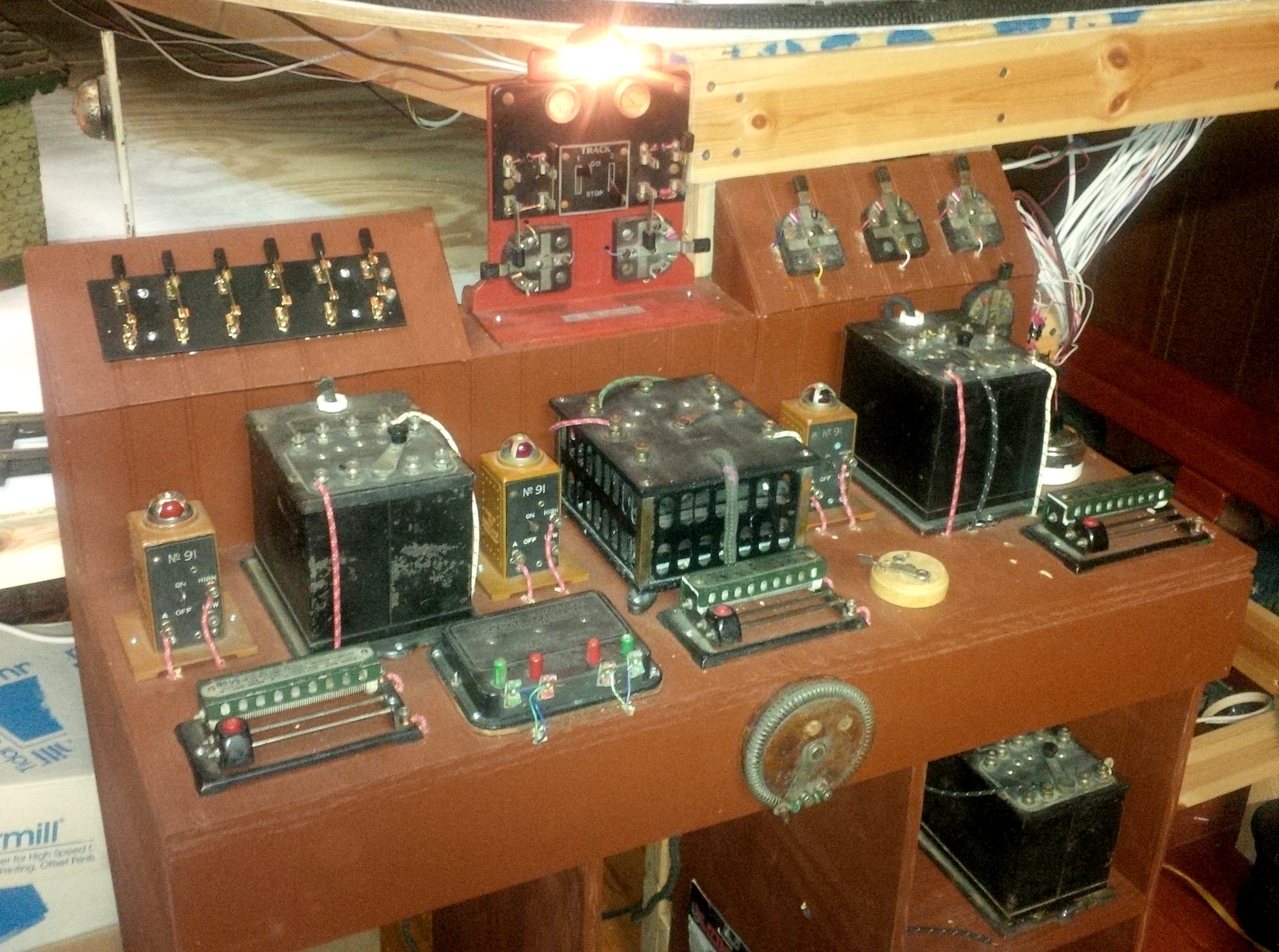 The control equipment is all prewar Lionel - except the center transformer. It's Voltamp and runs the C & F. (And of course, the AF switch controller.)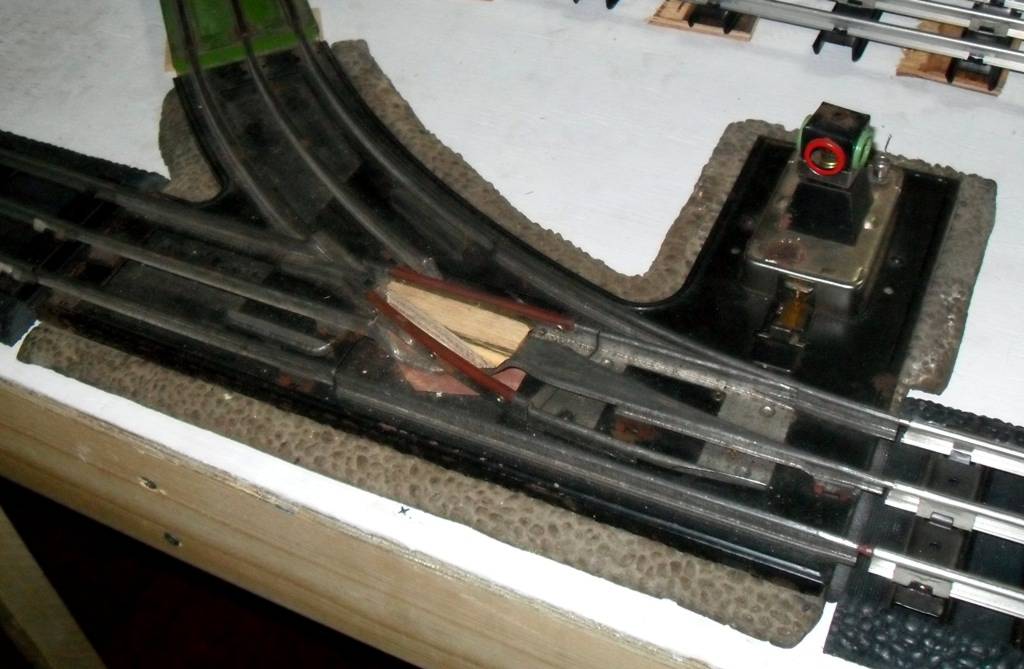 Everything ran through my new MTH 72" turnouts without a hitch. Likewise the 2 AF I cobbled together from parts of 4 were no trouble. The Lionel 223's... Well, not so much. With all three, it seemed everything with a pickup roller either jumped or derailed when passing through in one direction. I decided to take matters into my own hands. A bit of woodworking and superglue later and you see the results above. Voila! I don't know if it's kosher, but nothing jumps. Nothing derails. Life is good.
---
Close-ups of some of my favorites:
This Standard Steamer is my SG pride and joy. I couldn't afford any of the Lionel prewar locos -- so I bought this on eBay -- and when it arrived it was, literally, a scarred black wooden boiler with a plastic bag of crushed and mangled parts. It had been scratch-built at some point in the distant past, rebuilt at least twice from what I could tell, then dropped, stepped and danced on? Who knows? But a couple of full weeks of work later, some paint and spare parts from a 400E... and voila! No, it's not 'off the assembly line' slick, but I'm pretty proud of it.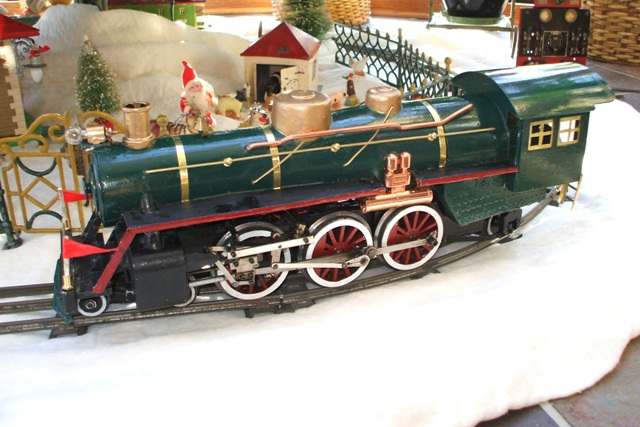 The derelict home-done loco I rebuilt didn't come with a tender, so I bought this rather derelict AF tender on eBay. It was missing its nameplates, so...
My mother always complained that her uncle and father never let her play with her own trains -- they were too busy playing with them themselves... so she's adopted the SG set. In her honor I had special brass name boards made when I redid the tender. They read "C. A. Anderson Lines."
And this is my other real SG treasure. It's a scratch-built 1930's folk art station. I can't walk past it without imagining some depression-era dad, after a grueling day, spending long hours to build something really special to be found under the tree some long-ago Christmas... I'll never know of course. But it's obvious it was built with an enormous amount of care, and, I like to think, an equal amount of love. That's a wrist-watch as the station clock under the eaves.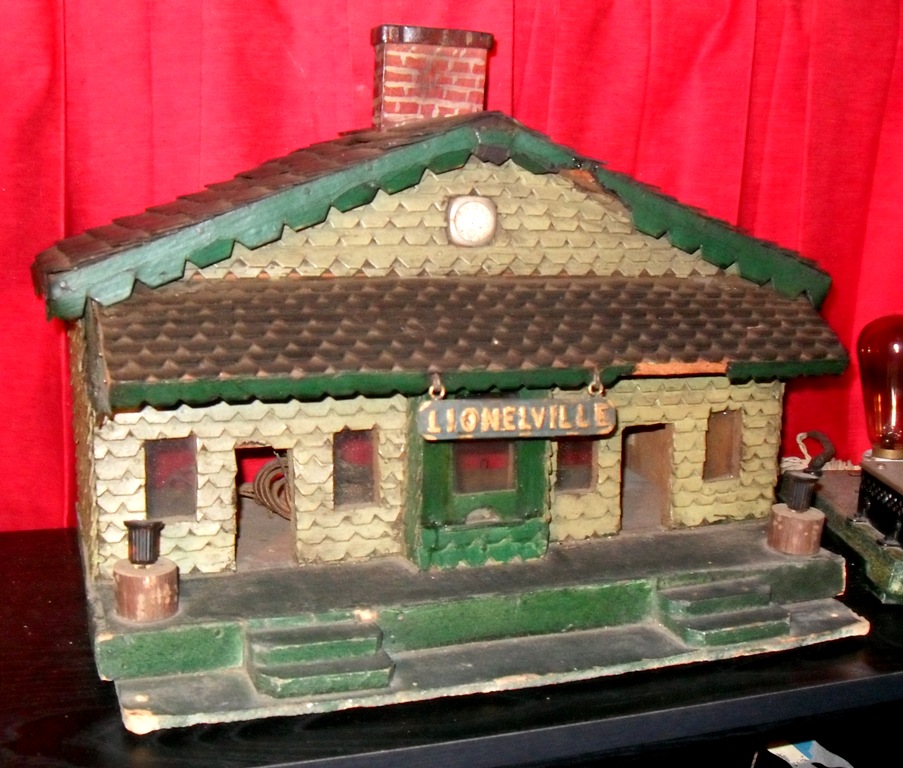 I just love the old Steam-Toy accessories. The fountain and stationary steam engine are by Falk, the Ferris Wheel, Empire.