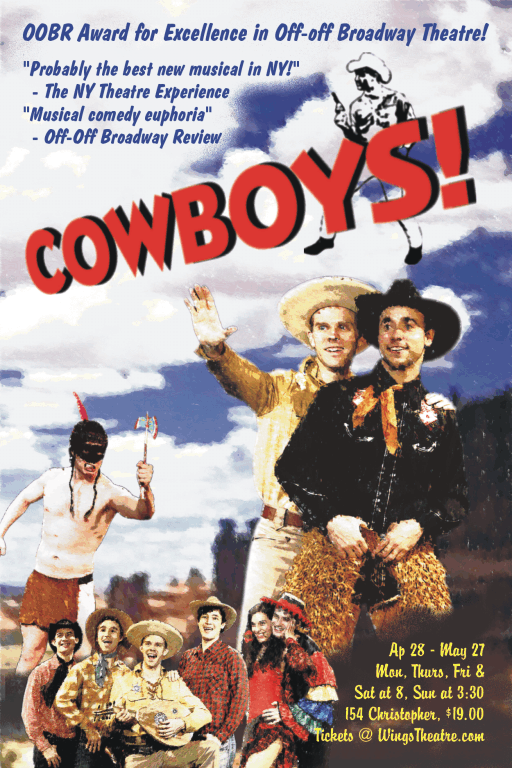 Cowboys!
An outrageous new country/western musical
Book & Lyrics by Clint Jefferies,
Music by Paul L. Johnson
A stylish musical send-up of those wondrous "singin' cowboy" films of the '40's -- but Roy & Gene never had a posse quite like this one...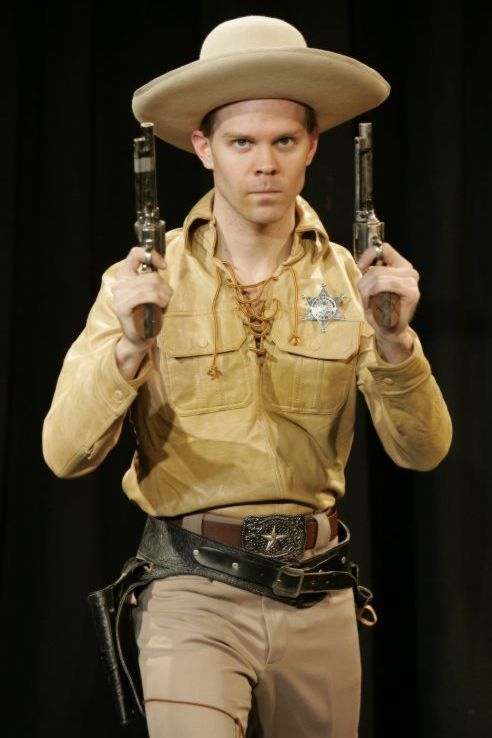 "This show is in a category all its own: a sweet, silly spoof... with a good-natured goofiness."
--Anita Gates The New York Times
"It's hard to fault a production with a cast this energetic and a score featuring an ode to how they grow boys down south: "Everything's Bigger in Texas."
--Mark Peikert HX Magazine
"Taken on its own terms, Cowboys! is probably the best new American musical in New York… Brimming with cheerily upbeat musical numbers, energetic choreography, and a passel of ingratiating performers who charm the pants off the audience."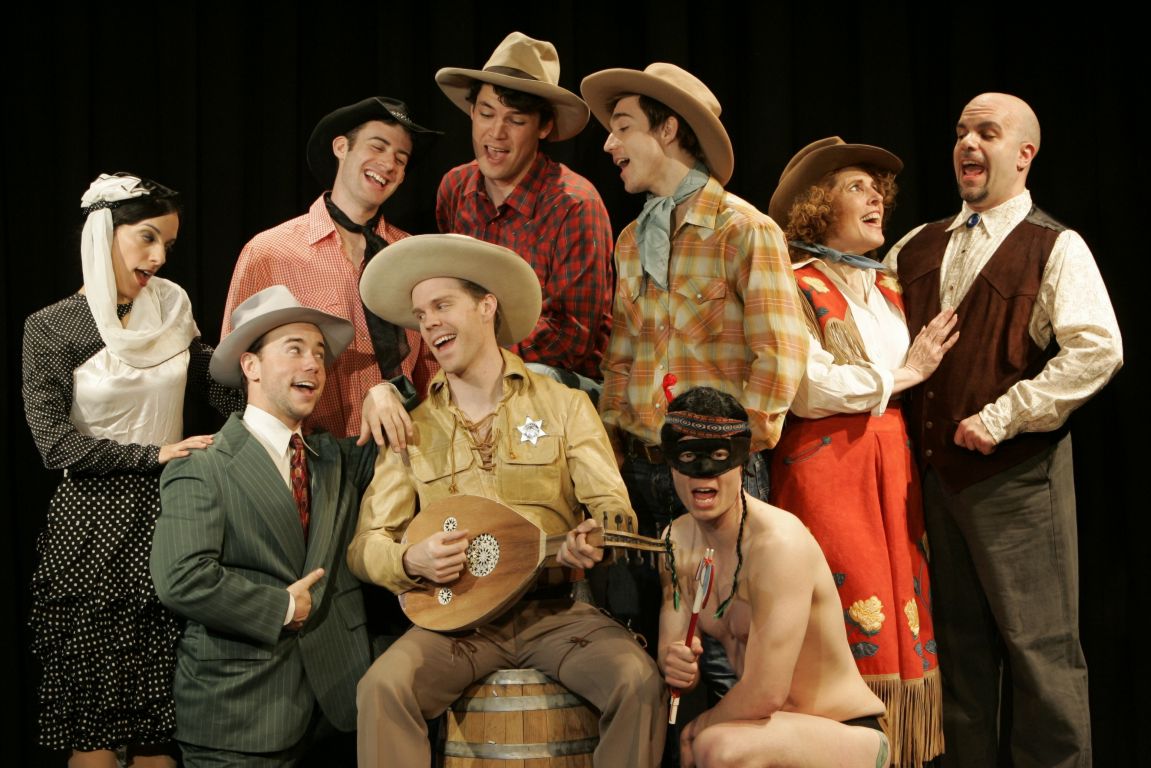 "In the best tradition of the '40's Fox musical comedies that Cowboys! artfully parodies and resembles, the convoluted plot exists only as the merest frame on which to hang a succession of comic scenes and glossy song and dance routines. These Cowboys! has a plenty, cleverly devised by librettist-lyricist Clint Jefferies, with cheery melodies supplied by composer Paul L. Johnson."
"Credit director Jeffery Corrick and choreographer Kate Dowe with providing a tone and pace that never lets up and never lets us down: along with the show's creators, these folks understand their material and their audience and succeed admirably in serving up the one to the other with consummate skill and good humor. Cowboys! knows what it wants to do and does it well.…"
--Martin Denton NYTheater.com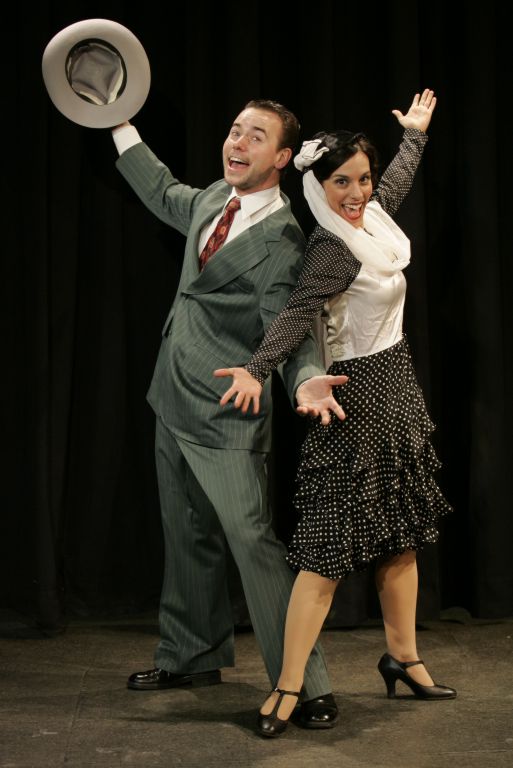 "Cowboys! is one of the most entertaining musicals I've seen in years. It features an attractive cast, toe-tapping music, funny lyrics and an interesting story line, full of unexpected twists and turns."
"Cowboys! deserves an extended run and the opportunity to reach a broader audience! I predict you will want to see this musical more than once! I suggest you make arrangements to get yourself some fond memories by calling now to make your reservation to see this show!"
--Dr. Thomas Robert Stevens Applause! Applause! Play Picks
"Clint Jefferies' new musical, Cowboys!, is one of the smartest, gayest shows of the season. Clint Jefferies book is a witty, tightly focused spoof that shows a real knowledge of and affection for the genre, his genuinely funny lyrics nicely abetted by Paul Johnson's superior score."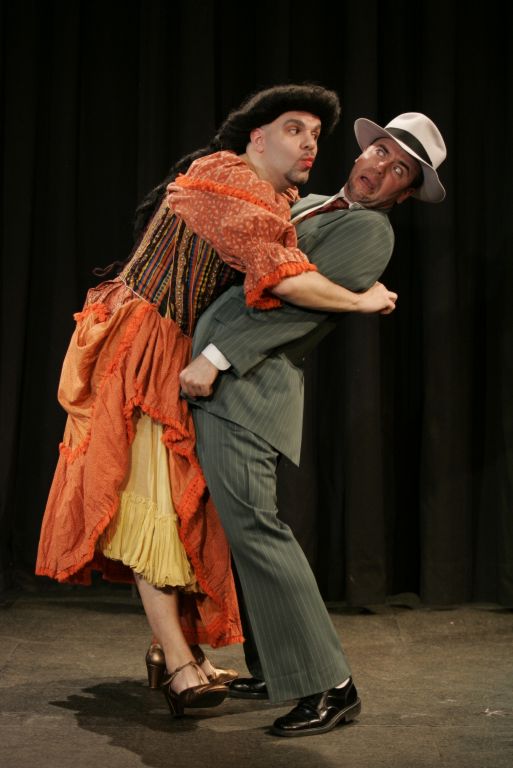 "Before the evening was five minutes old the affection with which Cowboys! was created was working its magic on the audience, who responded with such unadulterated delight that before long everything exploded in a giddy burst of musical-comedy euphoria. With any luck, Cowboys! will be held long past its scheduled closing date. Do try and see it - you won't be sorry.
--Doug Devita The Off-off Broadway Review
"There's going to have to be a new category, lofty camp, on the basis of Cowboys!… Enormously entertaining musical comedy…"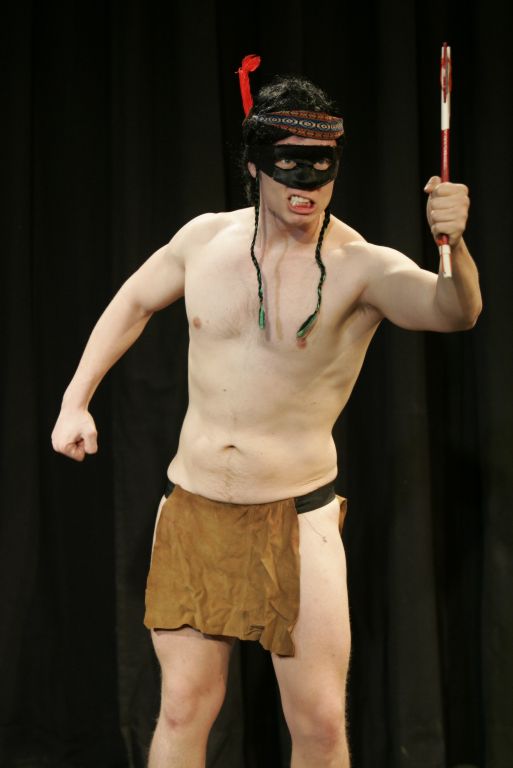 "The script and lyrics are lively, the music is fine and well-played, the choreography by Kate Dowe offers as many clichés (and as many laughs) as does the text and Jeff Corrick's direction is first-rate. You're guaranteed a rousing evening at Cowboys!"
--Stewart Benedict Michael's Thing
"One of the most risqué and hilarious shows I have ever seen... Clint Jefferies' book is sharp and funny... Cowboys! is a rare creation in theater: a hilariously lewd show with the quality to back it up. More fun than the proverbial pistol in your pocket, Cowboys! is sure to give enhanced pleasure."
--Michael Marcus Columbia Daily Spectator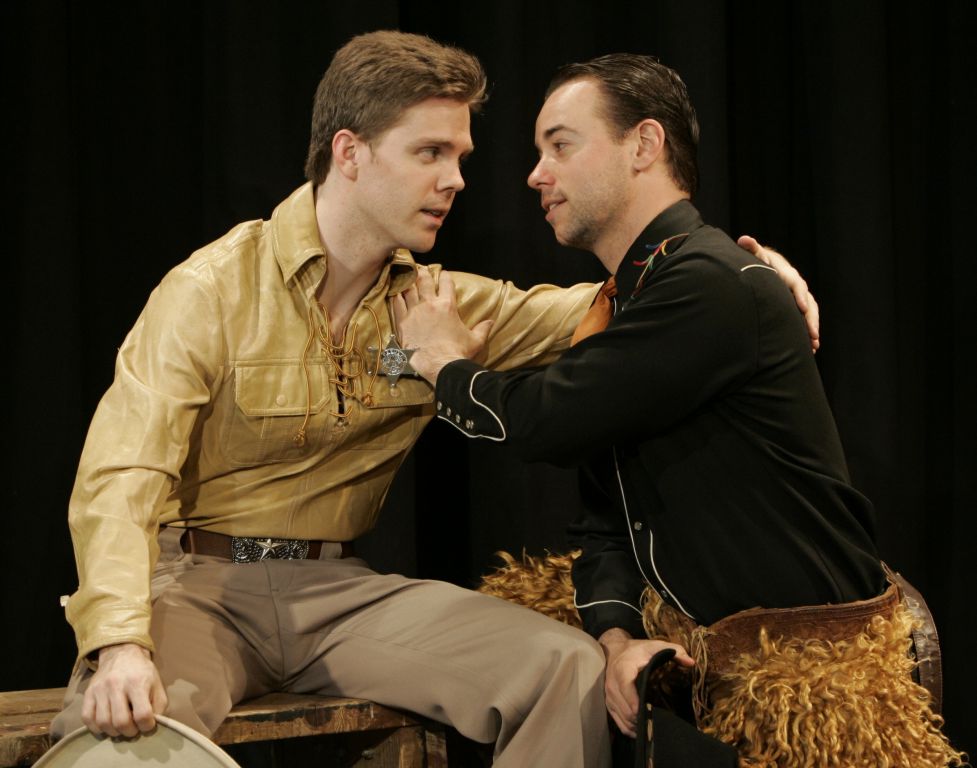 "A goofy, eager-to-please gay musical spoof... Grins and yodels and makes puns on cowpoking as it gives the old let's-put-on-a-show-to-save-the-ranch plot a spirited twist."
--Michael Musto The Village Voice
"There are secret identities, under-handed dealings, romance, a horse, campfires and a lynching. What more could one ask for in a musical shoot 'em up adventure! The book and lyrics by Clint Jefferies are very clever. The lyrics for 'I Fall To Faded Pieces After Midnight When Your Sweet Dreams Drive Me Crazy' are especially inspired. The western musical fanatics should see this by all means, and if you need to see gay men in western accoutrements, (or sometimes without) this is a feast."
--Jon Lee Electronic Link Journey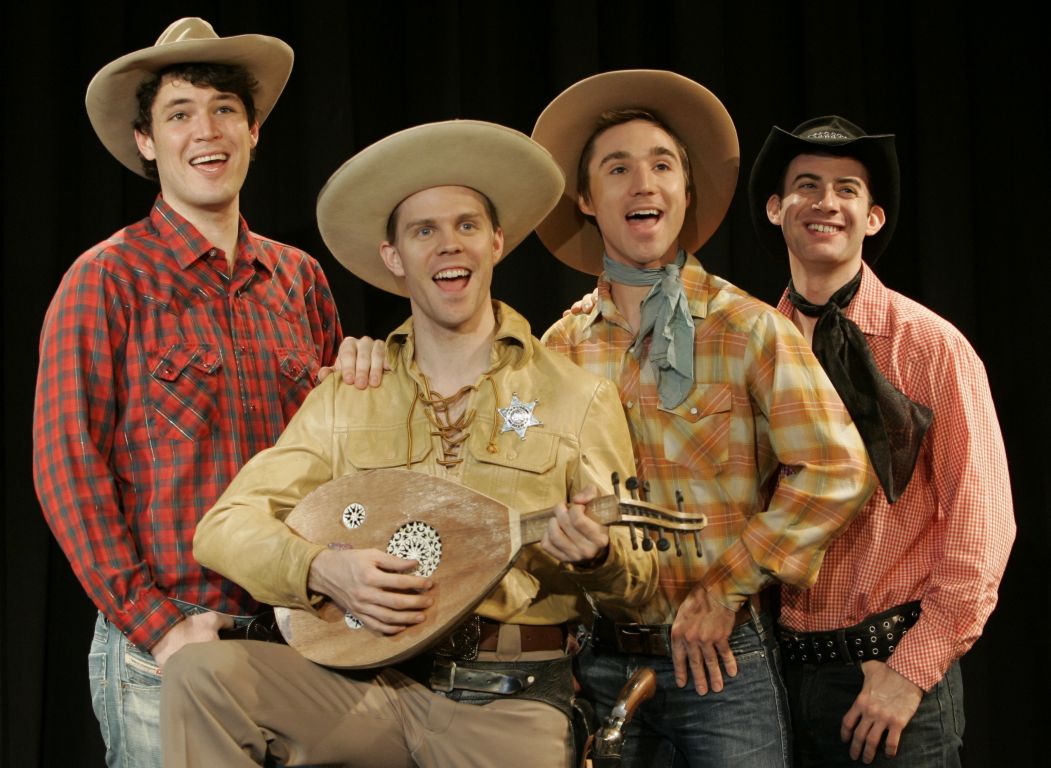 "Talk about a gay romp! This original musical send-up brings with it every Western and musical cliché in existence and invents new ones at the drop of a cowboy hat. Love songs, comic relief, a plot as ridiculous as anything starring Betty Grable, and it's played as straight (so to speak) as humanly possible. There's also some terrific music ('I Ain't No Good For You' being a musical standout). Mickey and Judy never put on a show quite like the one these cowboys rustle up to save the farm."
--David Mackler newyorktoday.com from the New York Times
"Lyricist-librettist Clint Jefferies knows how to build comedy and gets his laughs in comic musical numbers, particularly 'Nothin' at All'..."
--Leo Gruenfeld Aisle Say New York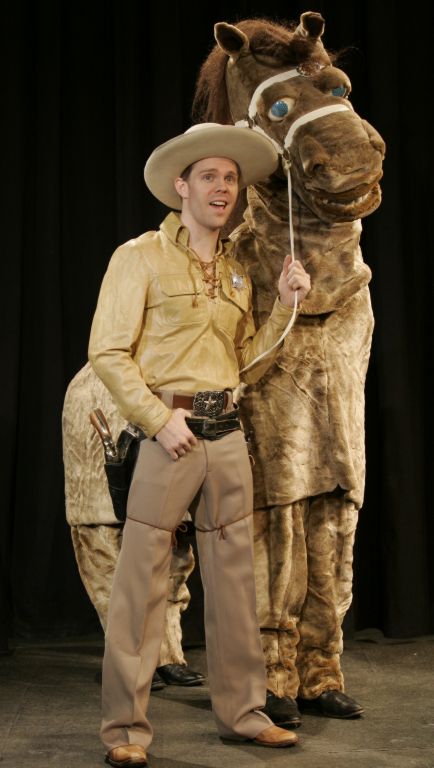 "Not Since 'Psycho Beach Party' has a genre been so deliciously sent up. The songs are catchy -- especially the Patsy Cline-style 'I Fall To Faded Pieces After Midnight When Your Sweet Dreams Drive Me Crazy' -- and the choreography is witty and exuberant. Bring your parents; bring the kids! Sure, there are topless men and lots of cheeky double entendres (It's a gay musical, duh!) but the story is sweet, wholesome even. Hey, when was the last time you saw a contemporary love story that hinged on a single kiss? This little musical has such a big strut that you want to see the production given more space. Here's hoping Cowboys! makes the move to off-Broadway. Isn't the Lucille Lortel dark right now?"
--Tina Fallon newyork.citysearch.com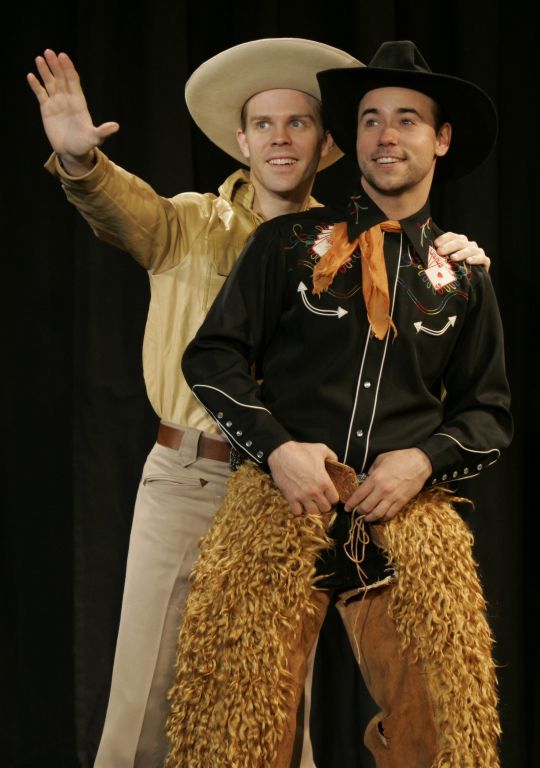 "Exuberantly directed by Jeffery Corrick, Cowboys! is Oklahoma revisited! This playful production combines the country charm of 'Hee-Haw' and the stage-struck determination of 'Dreamgirls' -- with costumes salvaged from John Wayne's closet and a plot borrowed from 'Babes in Arms.' Cowboys! is home-spun frivolity. Complemented by Kate Swan's spirited choreography, the actors perform more than a dozen entertaining ditties including Stephen Cabral's show-stopping "Girl From Texarkana."
--Robert Kent Next Magazine
"You would be hard pressed to find a gay comedy in New York with more talent and razzle dazzle than this outrageous musical parody."
--Jeff Goodman PM Entertainment Magazine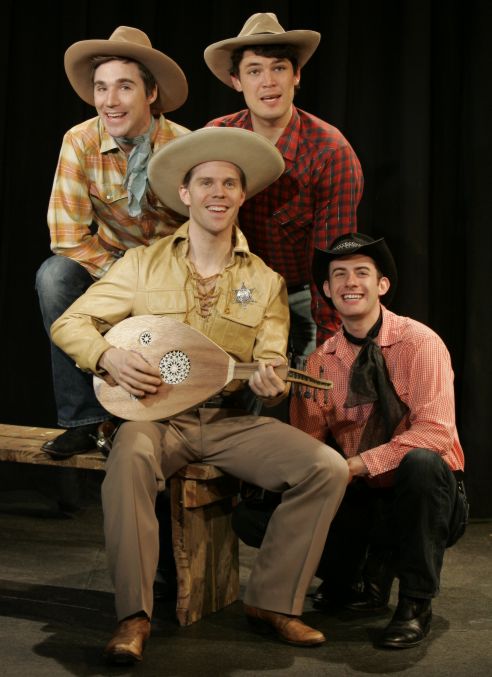 "To analyze the plot would be folly. It is a far more appropriate use of space to heap praise upon the amazingly endearing love story. The intricacies of the (admittedlyamusing) plot are inconsequential. What is significant is the delightful romance which arises from it, and the fact that it boasts one of the best first kisses, gay or straight, that one is likely to find. The jokes are funny, the music is good, the lyrics are catchy... Cowboys! seems to be less a good new musical than it does a delightful revival of a forgotten classic."
--Kevin Kuffa Culture Shock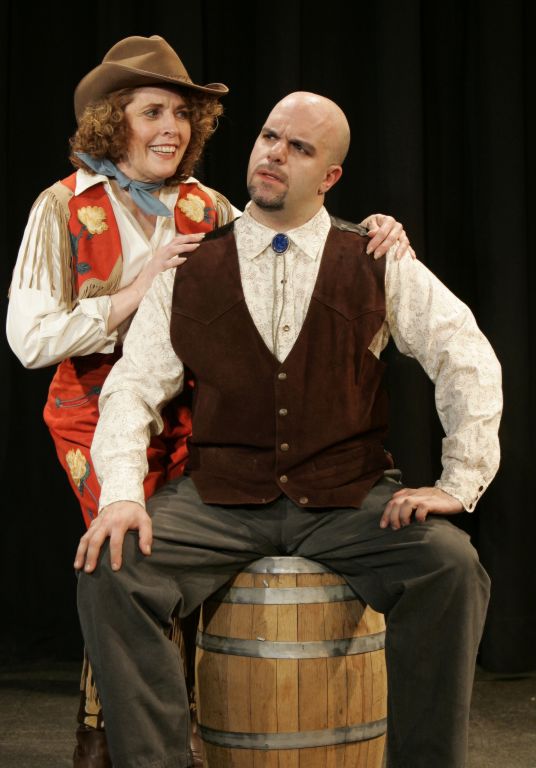 It's the early 1940's, on what looks suspiciously like the set from the sound stage of a Republic Pictures Western - and with an innocence even the Hayes Office would have approved, every cliché of the "singin' cowboy" movie is about to be turned on its head. The cowpokes on Aunt Rosie Ritter's Straight Arrow Ranch are just gol-darned glad to be way out West, "Where Men Are Men." Aunt Rosie has been a haven for cowboys of the "pastel persuasion," and most of 'em ain't worth a hoot as ranch hands. The ranch is nearly bust, and will be sold in 30 days for back taxes. So Colt, Buck, Sidewinder (The Croonin' Caballeros) and Ranger Rick Rowdy of the Texas Rangers team up with Judge Sassafras Devine to put on a Wild West Show to save the ranch. They've even met up with a mysterious masked Injun…
But Boston Bart Black, and his nefarious pal Lilly Luscious have other plans. There are secret identities, under-handed dealings, romance, a horse, campfires and a lynching. What more could one ask for in a musical shoot 'em up adventure! Cowboys! received the 1999/2000 OOBR Award for Excellence in Off-off Broadway Theatre. Scored for Piano, Guitar, Steel Guitar, Bass & Percussion. (7M/2F)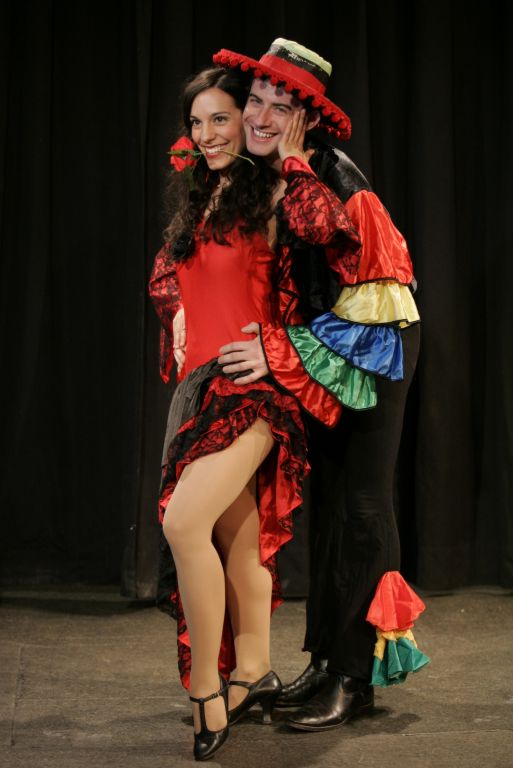 Cowboys! received the 1999/2000 OOBR Award for Excellence in Off-off Broadway Theatre and was produced off-off Broadway by The Wings Theatre, NYC. It was produced at the Pegasus Theatre in Dallas, Texas, and was subsequently revived at Wings.
For rights contact: clint@clintjefferies.com
Back to: Clint Jefferies' Page