From the Dallas production of Cowboys!...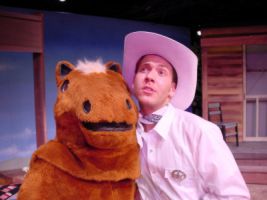 "Very, very funny... One of the most pleasant surprises seen on a local stage in a while... A rollicking evening... There are some hysterical and inspired moments such as Lilly's Patsy Cline-hodgepodge song 'I fall to Faded Pieces After Midnight When Your Sweet Dreams Drive Me Crazy' and 'The Girl From Texarkana,' sung by a temporarily in-drag Judge Sassafras..."
--Mark Lowery Fort Worth Star Telegram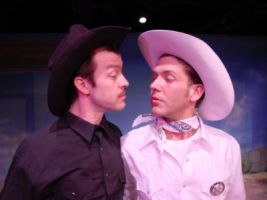 "Lilly's first number raises the level of humor to genuine wit. Soon... Lilly challenges Bart to seduce and betray Ranger Rick. Here's where Cowboys! turns psychologically interesting... Cowboys! wants you to believe it's all just in fun. But real danger lurks in its shadows."
--Lawson Taitte The Dallas Morning News
"Joyously silly... Offers up gay men free of the constraints of urban ghetto, stylish angst, political scars and insider-speak... It's gay escapism of the most desperately needed kind. There are numerous lively belly laughs to be taken from Cowboys!"
--Jimmy Fowler The Dallas Observer
e-mail: clint@clintjefferies.com
Back to the Main Cowboys! page