THEATRE

Wings
OPENED
April 11, 2002
CLOSES
May 4, 2002
PERFORMANCES
Mon, Thu - Sat at 8pm; Sun at 3:30pm
RUNNING TIME
2 hours, 10 minutes
TICKETS
$19
212-627-2961
SAVE ON TICKETS!
click here for a special discount offer
CAST
Miguel Belmonte, Stephen Cabral, Roberto Cambeiro, Samantha Clarke, Angel Comas, Ivan Davila, Mickey Goldhaber, Maureen Griffin, Antonio Marquez, JoHary Ramos, Gustavo Santamarina, Karen Stanion, Paul Taylor
AUTHOR
Clint Jefferies
DIRECTOR
Jeffery Corrick
MUSIC
Paul L. Johnson
SETS
Sam Sommer
LIGHTING
Cindy Shumsey
COSTUMES
Tom Claypool
FIGHT CHOREOGRAPHER
Kymberli Morris
CHOREOGRAPHER
Kate Swan
STAGE MANAGER
Parys LeBron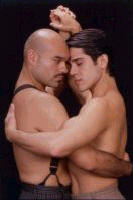 Tango Masculino is a new play with music by Clint Jefferies. Set in Buenos Aires, Argentina, at the turn of the 20th century, it tells the story of the lunfardo--a class of street toughs and hustlers who control the thriving black market in the city. The play focuses on the confrontation between Rosendo, a rogue who uses sex to demonstrate his power, and Jorge, a young man with no money and family who seeks Rosendo out as a mentor. As Jorge's lust for domination grows, Rosendo's silent need to surrender control increases, with intense results.
Tango Masculino, the new play by Clint Jefferies, brings us into a world not often explored by American audiences (or authors). We're on the patio of a bordello in the Porteño district of Buenos Aires, Argentina, at the turn of the 20th century. Here, a savvy, self-confident woman known simply as La Madre runs a house populated by prostitutes, bouncers, and street toughs. Among the denizens to whom Jefferies introduces us are a pair of whores, Sophia and Julia; a female impersonator ("La Marica") named Manon and his/her drug-addicted beau Lorenzo; and the cold-hearted, handsome hustler Rosendo, who controls the streets in this neighborhood and takes what he wants from Sophia and others who fear and desire him.
Into this odd community comes a young man named Jorge, who has left his home to tough it out in the city. What he wants above all is to be like his idol, Rosendo, and he quickly manages to get the older man to hire him as a sort of apprentice. Their relationship takes on sexual overtones, and eventually the two become lovers. But in Rosendo's world, a man who loves men isn't a real man. The tension between Rosendo's homophobic beliefs and his genuine feelings for Jorge ultimately lead to tragedy.
As I said, this is not run-of-the-mill fare. On the one hand, Tango Masculino is an engaging romantic drama of the kind for which Jefferies and Wings Theatre have become well-known, featuring a compelling gay-themed love story (two, actually, if you count the secondary tale of Lorenzo and Manon), plenty of intrigue and suspense, and a fair amount of shirtlessness by the leading characters. The action is supplemented by several songs that comment on the events of the play, performed by a pair of cantores who are accompanied by musicians on keyboard, violin, guitar, and bandoneon.
On the other hand, though, Tango Masculino looks, rather surprisingly, at issues of gender and sexuality that one hopes have been settled long ago. What are we to make of Rosendo and Jorge's sexual politics, in which homosexuality equals femininity equals weakness? Jefferies implies a similar direct relationship, at least in the minds of his characters, between power/strength and assumption of roles in the sex act itself. Love seems far removed from sex for these men, despite the fact that Jefferies apparently wants to believe that some kind of affection exists between them. The psychology gets a little strange here, to say the least.
Nevertheless, Tango Masculino is interesting and entertaining. The production, directed by Jeffery Corrick, is quite fine; the quality of work at Wings keeps on getting better and better every time I pay them a visit. Ivan Davila conveys all the contradictions of the sexy, conflicted anti-hero Rosendo, while JoHary Ramos is impressive as Jorge, showing us his progression from naiveté to assured manhood. Among the supporting players, outstanding work is turned in by Mickey Goldhaber as La Madre, Karen Stanion as the not-so-flighty prostitute Sophia, Roberto Cambeiro as the tragic Lorenzo, and Paul Taylor as the always self-possessed Manon.