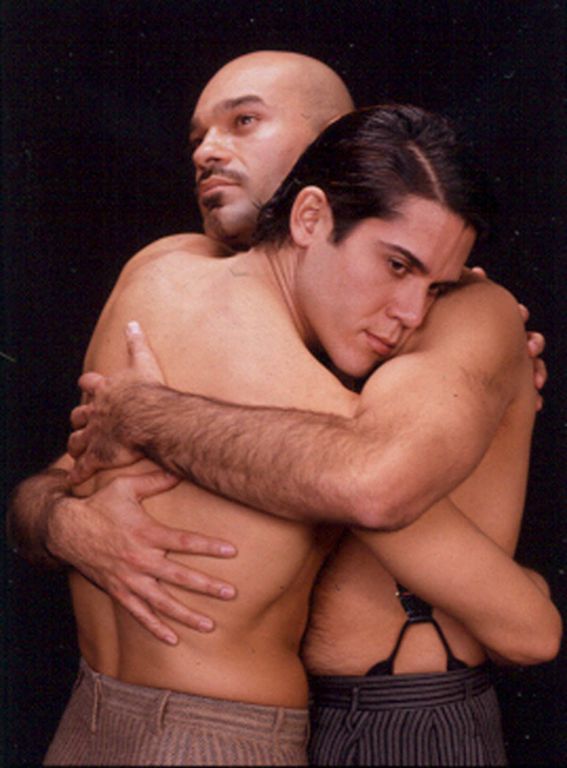 TANGO
---
JoHary Ramos and Ivan Davila
photo: Carol Rosegg
---
TANGO MASCULINO

---
The Wings Theatre
154 Christopher St.
Thu-Sat 8 p.m. Sun 3:30
Through May 4
$19 (212) 627-2960

by Christopher Byrne

The Wings Theater has long been a champion of gay-themed plays, with interesting new dramatists, challenging pieces, and spectacular failures. But, like all strong, committed theater
companies, the group keeps going and keeps true to its mission of supporting the gay theater. For that reason alone, no time spent at Wings is ever wasted.
The current offering, Tango Masculino is a heartfelt exploration of roles within relationships that is consistently interesting, strongly acted and well written. Clint Jefferies, who often writes for Wings, has created his best structured and richest work to date, and as directed by Jeffrey Corrick and acted by a fine company, Wings is at the top of its form.
Two actors in particular stand out. Ivan Davila plays Rosendo, a "successful" man who is lord of a brothel. He is charming, suave, sexy and versatile in the role. JoHary Ramos plays Jorge, the young man who looks to Rosendo as a mentor and guide -- not just in business, but in love. The volatile dynamics of the relationship between the two men within the context of Buenos Aires in the early 1930's becomes a fascinating study of the balance of power and love in any human relationship.
Complemented by a rich company of other characters, good songs and some of the best stage combat I've ever seen by Kymberli E. Morris, this is a highly worthwhile evening.