The Captain's Boy
A Musical Fantasy
Book & Lyrics by Clint Jefferies,
Music by Christopher Jackson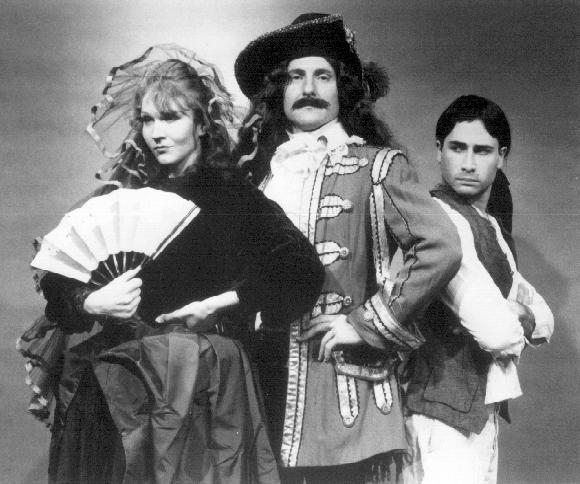 "The music is just great with two outstanding patter songs in the Gilbert & Sullivan mode. If there had been a pirate recruiting desk in the lobby, it's a good bet that all of the overflow audience would have signed up. The Captain's Boy is well worth a visit."
--Stewart Benedict MICHAEL'S THING
Pirates have always conjured up a more romantic image than they probably deserved, and The Captain's Boy upped the ante by portraying the murderous thieves as lusty homos with good singing voices. Wings Theatre has an amazing lineup and this production was no exception."
--MANDATE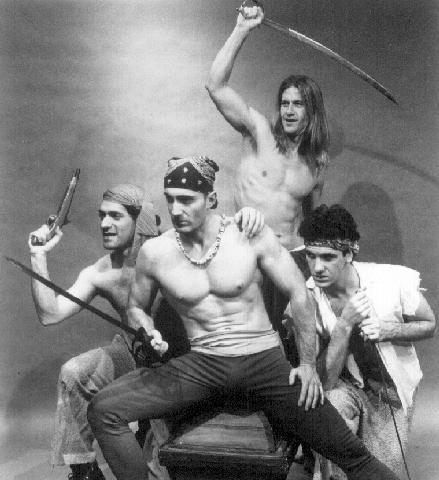 What a perfect fantasy: Errol Flynn throws over Maureen O'Sullivan for Douglas Fairbanks, Jr. It just might happen in The Captain's Boy, a big, MGM-style pirate musical owing a bit to Gilbert and Sullivan, and a bit more to Errol and Douglas. It's a bawdy, swashbuckling romp across the high seas, complete with a dashing captain, an unwilling stowaway, and a mysterious Spanish princess. On a 17th century pirate vessel, a crew of MGM pirates are discovered enthusing on the joys of the gay buccaneer life. Fresh from sacking a Spanish ship, the rascals have returned with captive: Jeremy, a young crewmember who begs to join the pirates. But the moment a mysterious Spanish princess makes her entrance; the sky is blocked by a sterile gray wall. When she steps into full view, even her gown has transformed... We are suddenly in a surreal cinéma-vérité asylum and nothing is what we thought it to be… Scored for Piano. (8M/1F)
The Captain's Boy has been produced off-off Broadway by Wings Theatre Company, NYC and in Chicago by Bailiwick Repertory.
For rights contact: clint@clintjefferies.com
Back to: Clint Jefferies' Page